2004 - 2011 DL650 Akrapovic Performance Exhausts
00450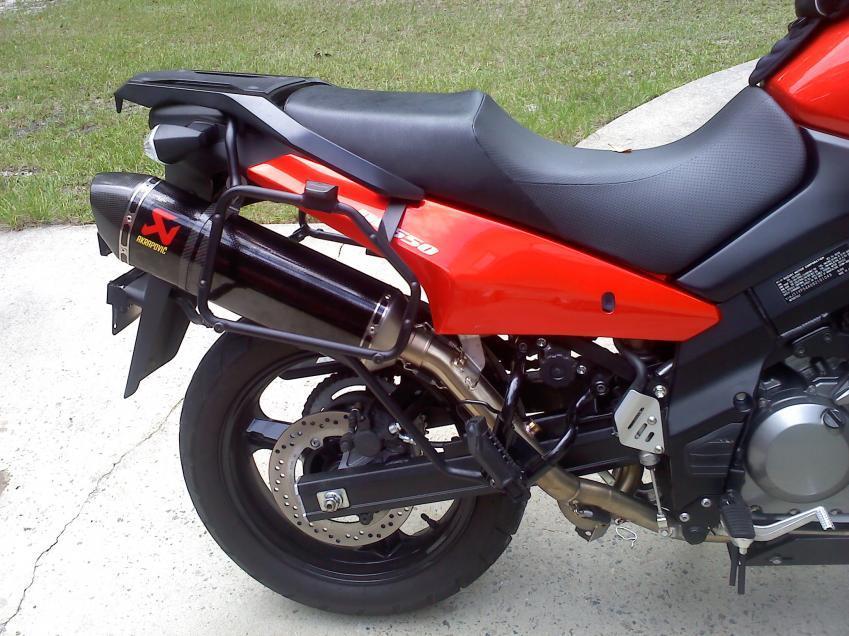 These Akrapovic Full System Performance Exhausts are available in Titanium Canisters.

All systems come with a removable sound damper.
The Optional Combination 18mm Bung to 12mm Reducer required for the installation of the 12mm O2 Sensor required on all California DL650 Model bikes and all other DL650 manufactured for use with O2 Sensors, is available Shipped for Free with our Akrapovic Exhaust as a Stromtrooper Discounted to Free Option on the drop down menu boxes.
The O2 sensor reducers are list price $59.99 at Akrapovic
Akrapovic Performance Exhausts will give your DL650 or DL1000 Vstrom a significant power increase while giving your bike a fresh new look. We also have the Akrapovic slip On Exhausts available for your DL1000 Vstrom

Contact me directly at info@svracingparts.com for your DL650 or DL1000 Akrapovic Exhaust.
The weight loss is 12 lbs off the stock system with 4 extra HP. I recommend using a K&N Style performance air filter with the Akrapovic Exhaust.

The use of a Power Commander is a benefit on every fuel injected bike. $299.95 all in and discounted for Stromtroopers from $379.95 when shipped with your 2004 - 2011 Akrapovic Equipped DL650,
You receive the SV Racing Parts, Custom Map for DL650 Free when you order your Power Commander through SV Racing Parts,

Email me at Info@svracingparts.com and I will get you looked after right away,
DL650 Akrapovic Slip On Finish
K&N High Performance Air Filter