250 to 400cc Motorcycles, 2019 Series 3 Temp Tire Warmers
00386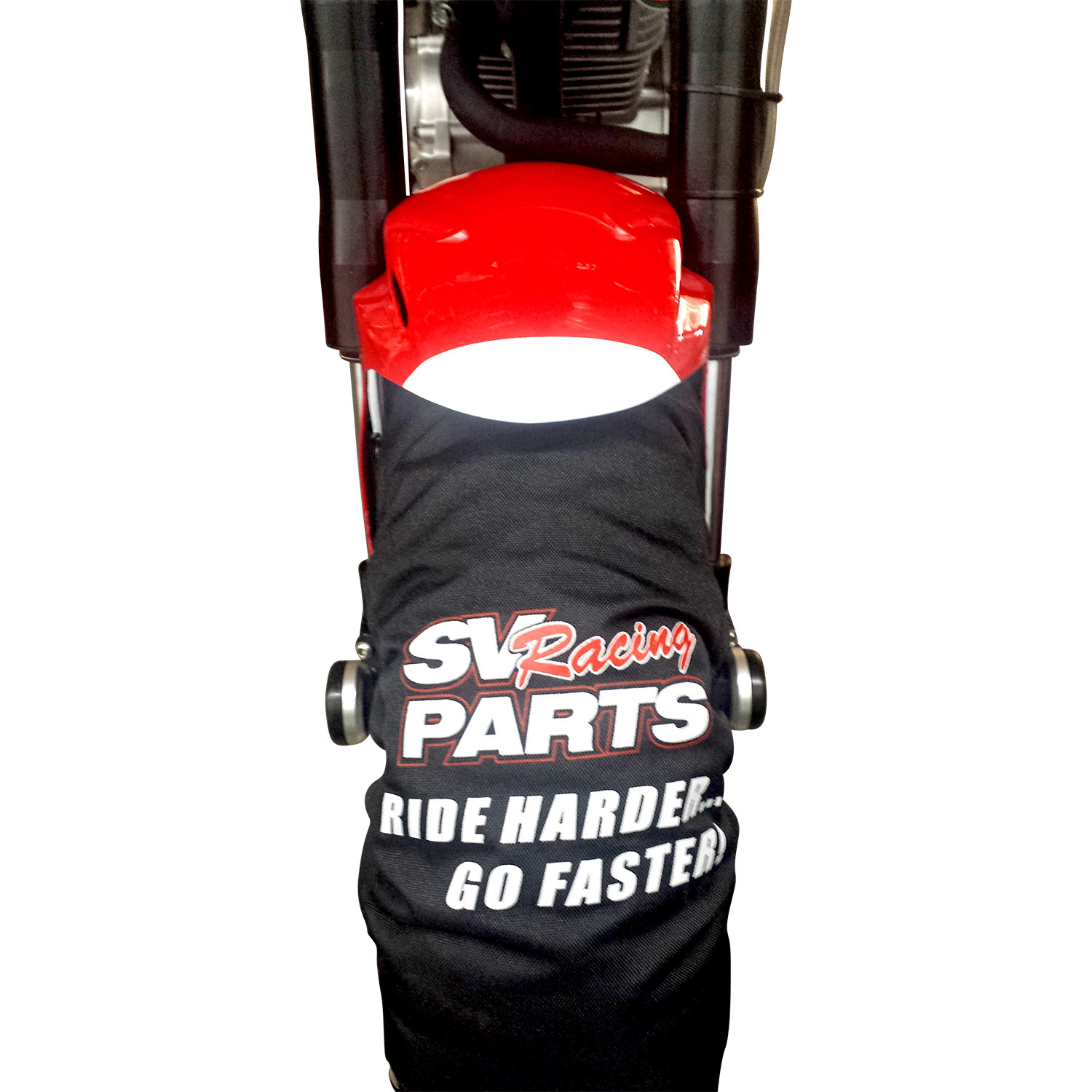 SV Racing Parts, New 2019 Series Fit: 250R - 300R - 400R Ninja and Honda CBR 250R - 300R and Yamaha R3 and KTM RC390 models,
High Quality Tire Warmers, allow the Small Bore Racers to use the Same High Quality Tire Warmer as the SV Racing Parts, Big Bike Road Racers Tire Warmers, Specifically Sewn to fit the 250- 400cc Sized Bikes Tire Sizes at a super affordable price.
Every set is Nomex and Kevlar Construction with a Fully Aluminized Layer to Spread the heat evenly across your tires and keep them at right temperature.
The Set Includes Front and Rear Tire Warmers with a great looking Carrying Bag to make storage and Transportation easy,
Sewn to work with the shape and size of your bikes tires makes installing and removing these Tire Warmers super easy, Leave them on your bike in-between sessions to reduce heat cycles.
These are 3 Temp Tire Temperatures Warmers so that you can sett your Tire Temps according to conditions and go into turn Confident and Focused on Racing and Winning.
Carrying Bag is included. It is sized for two tire warmers to fit into ready for packing and storage.
Super Value on High Quality Digital Tire Warmers Built to Perform for Champions.
Available now in Bikes, Dunlop Slick DOT Tread Style Race Tires Sized for 140-150 Rear Tires to work awesomely for the 250R -300R - 400R Ninja and Honda CBR 250R - 300R, R3 Yamaha and KTM RC390 Racers and Track Day Riders,
Everything is in stock and ready to ship, Let me know the size you want by selecting from the Drop Down Boxes, These are excellent parts that will serve you well,
Contact me Directly anytime you like by using the Contact Us Link at the top of the page,
We Ship Internationally Every Day, Visit www.svracingparts.com